Second Breakfast
Thursday, May 11, 2023 by Sarah Schwerin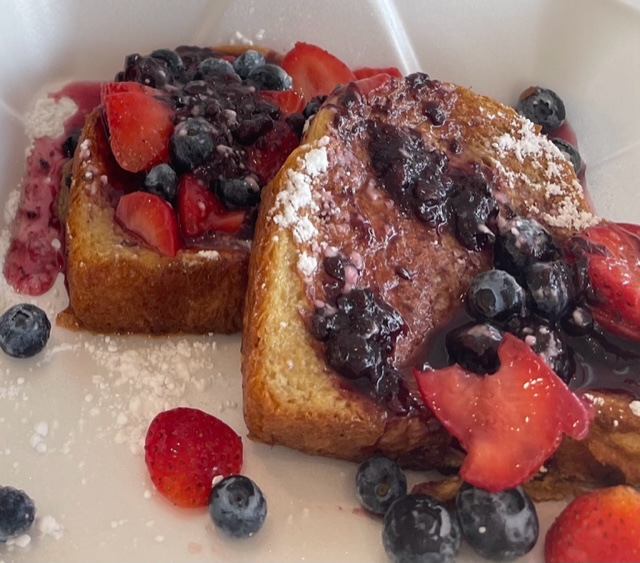 I sipped my coffee and chatted with my sister and her family. My cell phone dinged. It was a message from my teenaged son. I knew he wasn't happy that he had to go to school while we ate a leisurely restaurant breakfast.
His text read; can you buy me some French toast?
I didn't want to buy him the food. I was busy. He had done nothing extra special. He had good grades, but they didn't call for a treat. Besides, he'd already eaten breakfast at home.
Yet I bought him the food. He's my son and I love him.
God likes to do good things for us. Unlike me, He doesn't even hesitate.
"Whoever dwells in the shelter of the Most High will rest in the shadow of the Almighty," (Psalm 91:1, NIV).
To rest in God's shadow, all we have to do is to dwell in his shelter, live in his house.
My son lives in my home. My husband and I feed him, clothe him, and buy him gifts, not because he deserves it, but because he's our son and we love him.
Many of us may not be able to call our parents to ask for breakfast or anything else. Our parents may no longer be alive, or maybe they aren't able to provide for us for a different reason.
In this world, it's hard to find anyone or anything that can fulfill all our needs and wants. We may find something or someone that may fulfill us for a time, but soon life happens. Death takes our loved one or our loved one leaves us. What we thought was an answer to our problems turns out to be another source of anxiety and need. When death, disease, and disappointment surround us, we might forget that we have someone we can call on.
As our Father, God longs to provide for us and protect us. All we have to do is call him and he will provide what we need, even if it's a second breakfast.
"'Because he loves me,' says the LORD, 'I will rescue him; I will protect him, for he acknowledges my name. He will call on me, and I will answer him; I will be with him in trouble, I will deliver him and honor him. With long life I will satisfy him and show him my salvation,'" (Psalm 91:14-16, NIV).
---
---
M. L. Anderson From Mt. Dora, FL At 5/14/2023 5:58:24 PM
Reminds me of a story about a boy that struck out.in his only time at bat, but after the game his dad let him ride in the front seat, and took him for ice cream. The dad loved his son... no matter how he played. What a simple example of God's love you gave your son by bringing him French toast.
Reply by: Sarah Schwerin
That's a story I'd like to read. Thanks for reading mine.