Books Review: We Too By Mary DeMuth
Friday, March 24, 2023 by Sarah Schwerin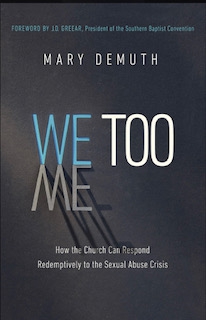 "Learn to do right; seek justice. Defend the oppressed. Take up the cause of the fatherless; plead the case of the widow," Isaiah 1:17, NIV.
God's people, the church, have a mandate to speak up for and protect those who cannot protect themselves. But many times, the church falls short on this. When a sexual abuse scandal arises in the church, many church members rally behind the perpetrator, while the victim faces blame or falls into the background, forgotten and sometimes re-traumatized.
In the book We Too: How the Church Can Respond Redemptively to the Sexual Abuse Crisis, Author Mary DeMuth draws from her experience as a sexual abuse survivor and others' stories in discussing the sexual abuse crisis and why we, as a church, need to respond. Using Biblical examples, she shows that "God has compassion and empathy for those who are exploited (pg. 41)."
As a survivor of sexual abuse, this book was an emotional read for me. I love the church and it saddens me to see how its members have hurt each other by sweeping sexual sin under the rug. Instead of becoming a place of healing, many churches have turned their backs or ignored the pain of sexual abuse survivors, both female and male.
Geared toward lay people and church leadership, this book asks the hard question: how can we help our church culture go from a place of silence and passivity to a vocal community that encourages survivors to share their stories? DeMuth provides a framework for the church and those who take Jesus' mandates seriously. Her suggestions include but are not limited to: err on the side of belief, listen to survivors, don't minimize the abuse, educate yourself, and report abuse. God calls his church to not only be a haven for the abused but to educate themselves on the nature of predators, to expose lies, report abuse, and aid in the restorative process.
Even though I struggled while reading this book, hope filled me. Hope that this important resource can spark conversations and changes that will help other victims find the healing grace of Jesus Christ.
For more information, visit: https://www.wetoo.org/.
---
---