Oatmeal For Dinner
Thursday, December 15, 2022 by Sarah Schwerin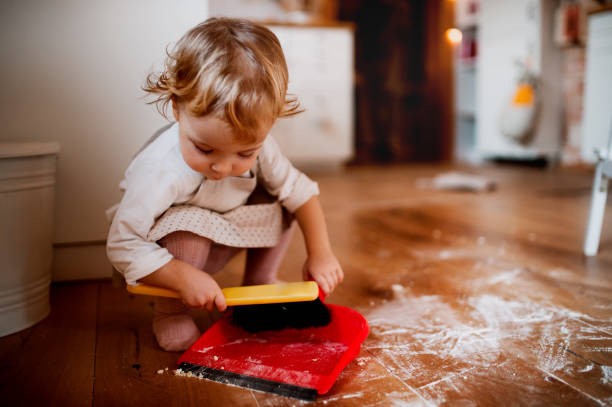 The strains of Thomas the Tank Engine floated into the kitchen. Empty Tupperware and toy dishes littered the floor. My preschool-aged son and toddler had been cooking, and I was too tired to clean up the mess. My husband called from work. He wouldn't be home until late. The evening stretched before me, with no end in sight.
I opened the pantry door with a sigh and perused the contents. It didn't take long. Spaghetti noodles, a box of mashed potatoes, some saltines, a couple of pudding boxes, and a large round canister. Maybe we could have oatmeal for dinner again?
The prospects in the refrigerator weren't much better. We ate the leftovers for lunch. I could make PB&J sandwiches, but then remembered we'd had toast for breakfast and no bread or peanut butter remained. I opened the tub of butter and cringed at the toddler-sized tooth marks. What about jelly on crackers?
When I shut the refrigerator, a small hand touched my leg. My curly-haired preschooler smiled at me. His younger brother followed and lifted his arms up to me. I picked him up and kissed his soft cheek, inhaling his sweet scent and the faint aroma of butter.
"How about oatmeal for dinner?" I asked.
"Roast." My oldest picked up a bowl from the floor and placed it on his head. He smiled up at me. "Gramma's roast."
The toddler started squirming, and I set him on the floor. He picked up another bowl and placed it on his head, laughing. "Pa."
They loved visiting their grandparents, who lived nearby.
My older son laughed and twirled in a circle and chanted. "Gramma, Pa. Gramma, Pa."
Loading the boys into the car, I hoped my in-laws wouldn't mind an unexpected visit. We still had plenty of month left, but not that much money. I had come to the end of myself and my resources.
When we come to the end of ourselves and our resources, God is always ready to step in and provide. Sometimes it's your in-laws cooking a grilled cheese or a Sunday afternoon roast. Other times, it may be an encouraging word or a phone call.
To be honest, I'm not sure what we ate for dinner that evening, but I remember God provided something for us, just as He always does.
"And this same God who takes care of me will supply all your needs from his glorious riches, which have been given to us in Christ Jesus" Philippians 4:19, NLT.
---
---