Talking Birds
Friday, July 15, 2022 by Sarah Schwerin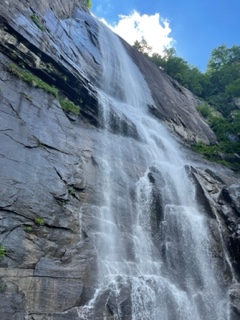 I stopped and listened for the birds, but there was only silence. Wiping the sweat from my forehead, I continued walking through the North Carolina woods. Birds don't speak. Yet the song I had heard sounded as if a bird spoke to me.
A group of hikers approached from the opposite end of the trail. I leaned against a tree and let them pass. The bird song repeated. I turned. Twigs snapped and leaves rustled. No one in the group had spoken. Yet, the words were as clear as if my fellow travelers had spoken to me.
I continued the climb up the mountain, puffing and sweating. Was I going crazy? I was familiar with the trill of the Bob White, the honking of geese and other bird songs, but never had I heard actual words from a bird. The loneliness of the writer's life was finally getting to me. My brain was mush after the rejection from publishers and agents. I was hearing sounds that didn't exist.
In front of me, a flight of steep metal stairs loomed. I inhaled and climbed, planning to increase my exercise regime when I returned home. Why was I hiking? I should have gone shopping.
The bird song repeated, "I need you."
With each step, I repeated the message to myself, but knew no one needed me. My teenage boys were growing up. Soon they wouldn't need me at all. My husband, a busy executive, enjoyed spending time with me, but didn't need me.
A year ago, I began seriously writing and as the rejections piled up, I knew no one needed me or my words.
I reached the top of the stairs. The forest spread beneath me and above me. I inhaled the mountain air. Wildflowers outlined the stream. Tall, majestic trees reached to the cloudless sky. The sound repeated.
"I need you."
Could God be sending me a message?
God didn't need me. He made this beautiful world. He was all knowing, all powerful, all everything. What difference could I make?
At the top of the summit, I followed the arrow on the sign and the bird song repeated. "I need you."
The waterfall drowned out the bird's message. The powerful water spray cooled me and a peace settled on me.
God didn't need me.
He can accomplish anything and everything without me. No, God doesn't need me—He wants me.
God chose me.
I descended the mountain. My muscles were sore, but my mind was at peace. I was going back to my family. They didn't need me, but they chose me and I chose them. I was going back to the writing and rejection, not because God needed my words but because He called me to write. He chose me.
On my trip down the mountain, I heard the bird song once again. Now the song was only notes, no longer the words I had heard. I guess God knew I didn't need the words at that moment.
"But you are the ones chosen by God, chosen for the high calling of priestly work, chosen to be a holy people, God's instruments to do his work and speak out for him, to tell others of the night-and-day difference he made for you—from nothing to something, from rejected to accepted" (1 Peter 2:9-10, MSG).
---
---
Katherine Pasour From NC At 7/30/2022 3:32:53 PM
I felt your sadness and mourned for you. All authors join you in the pain of rejection. Only one thing I disagree with--your family does need you and loves you.
Reply by: Sarah Schwerin
Thanks for reading and commenting.
Katy Kauffman From At 7/30/2022 7:26:09 AM
I like it when God sends us little messages in a special way. He loves us and has a plan for us, even if we experience bumps in the journey. Keep writing, Sarah! I will too.
Reply by: Sarah Schwerin
You are so right and those bumps can become some of life's little joys.