Looking for a Leader: Reflections from the Gettysburg Battlefield
Friday, June 24, 2022 by Sarah Schwerin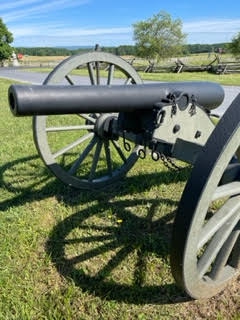 I surveyed the beautiful countryside. The mountains, streams, and fields seemed like an ideal vacation spot. Yet, the town isn't known for five-star resorts or theme parks. Gettysburg, Pennsylvania, is known as the site of one of the Civil War's bloodiest campaigns.
My brother-in-law, who has become quite the Gettysburg scholar, took my family on a two-day tour, recounting the three-day battle that was a turning point in the war. While we followed him over tree roots and up hills, I imagined the armies doing the same.
The soldiers would have marched behind their leaders. Only the few from the area would have been familiar with the terrain. The others couldn't have Googled it beforehand. Unable to predict their enemy's position, they would have walked blindly across fields. They had to trust their leaders.
While my brother-in-law talked, I tried to keep the troop movements straight in my head, but the facts kept getting jumbled. The Union is winning. The Confederacy is winning. No, the Union. Now, the Confederacy. In the end the Union triumphed, but how?
According to a Smithsonian Magazine article, Confederate General Robert E. Lee never quite knew his enemy's exact location. The terrain hid part of the Union army. Due to lack of information, he made mistakes.
The outcome of battles rest in the hands of leaders. When leaders make mistakes, wars are lost.
We all follow someone or something: a spouse, an employer, a friend, our pride or desires.
Who is your leader and where are they leading you?
Israel followed leaders who led them astray. In Zechariah 11, judgement is announced. Israel will find themselves out in the open. The protective forest demolished. The pasture where they had found food destroyed. Instead of taking care of them, those in charge will mark them for slaughter. But God desires a different path for us.
God wants us to turn from whoever or whatever we are following. He wants us to follow Him, and He promises to:
Find us - When we follow the wrong leaders, we get lost, but God will always find us (Ezekiel 34:11-14).
Lead us where we belong - God will lead us to where we can flourish and grow (Jeremiah 23:3).
Give us a trustworthy leader - In Jeremiah 23, God promised to send a wise and just King. In the New Testament, God sent Jesus, the one who we can trust to lead us.
From Little Round Top, I gazed over the valley and thought about all those who had died in this place. Lives were lost because leaders made decisions. Some decisions were good, some were not. No one who participated in the Civil War believed they were following the enemy. All those who died on the battlefield did so fighting for something they believed. They died following the leader they had chosen. The leader they had thought was correct.
Who are you following and where will it lead you?
"Teach me to do your will, for you are my God; may your good Spirit lead me on a level ground" (Psalm 143:10, NIV).
---
---
Jennifer From Mt At 7/2/2022 9:11:26 AM
Great post. I love the Gettysburg visual. I have always wanted to go there.
Reply by: Sarah Schwerin
Thanks for reading. It is an awesome place to visit.
Candyce Carden From GA At 7/1/2022 9:35:10 AM
So many zealous voices claiming to bring the word of God these days. Discernment is needed more than ever even among our friends and other influencers.
Reply by: Sarah Schwerin
Discernment is vital. Thanks for reading.
Annie Yorty From At 6/28/2022 11:40:46 PM
Great observations here from a military perspective, Sarah. I believe we need to check ourselves regularly to make sure we haven't veered off the path of our Leader to follow another. We are easily distracted.
Reply by: Sarah Schwerin
Yes, I too am easily distracted. Thanks for reading!
Barbara Latta From Georgia At 6/28/2022 2:19:35 AM
You shared great observations because leaders do influence the people that follow them. That is why we should be discerning about whose leadership we follow. I have visited the Gettysburg Battlefield also It is an impressive sight and brings emotions to the surface when we think about what happened.
Reply by: Sarah Schwerin
It is important who we follow. Thanks for reading.
MICHAEL ANDERSON From Mount Dora, Florida At 6/25/2022 3:08:03 PM
Interesting insights. Enjoyable read. Thanks for sharing.
Reply by: Sarah Schwerin
Thanks for reading.