Snow Days and Hearts that Lead Us Astray
Wednesday, April 13, 2022 by Sarah Schwerin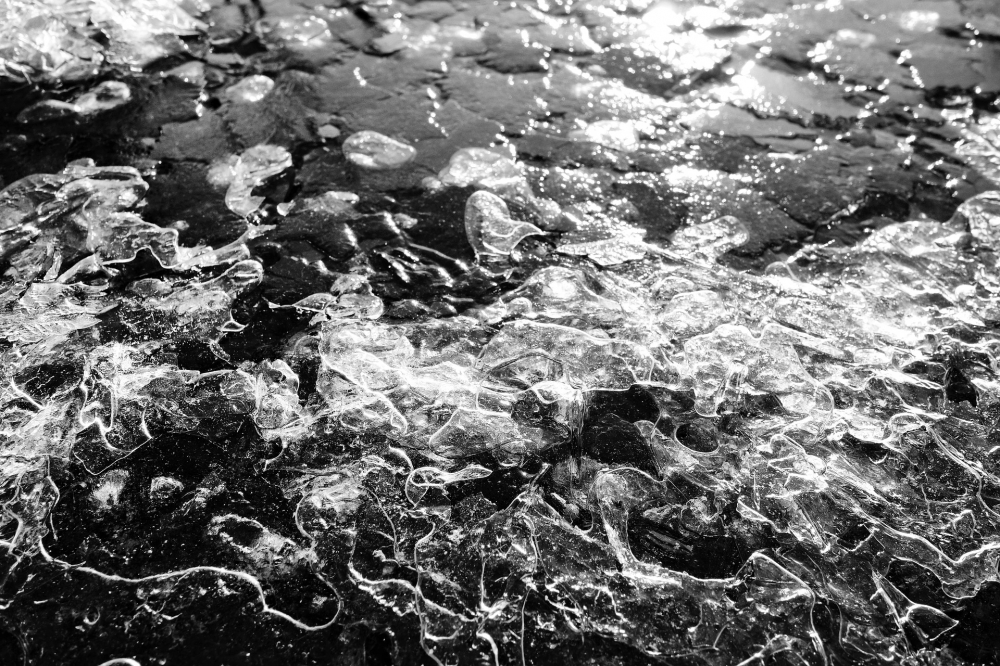 Instead of following me, my brother leaned over the raised cement pond and tapped on the ice. "It's solid." A mischievous smile filled his face.
Only a couple of feet across and about a foot deep, I didn't even know what the pond's use was, only that my friend's mom told us to stay away.
I inspected the ice. "Let's just go sledding."
He pulled himself up and balanced on the pond's edge. "But we can go ice skating instead." He placed one snow boot on the surface.
What was that noise?
Then he placed his other boot next to the first. He turned and grinned at me. "See, it's—"
The ice cracked, and he sank.
I helped to pull him out. We didn't go sledding that day.
When did the problem start? Was it when my brother first saw the frozen pond or when he realized no one was home to stop his plan? Maybe it started when he suggested we go ice skating? Perhaps, when he climbed onto the ledge? Or the moment he placed his foot on the ice?
It can be hard to know when we are in danger until we fall into a situation, and no one is there to pull us out.
Solomon must have felt like he was drowning when God pronounced judgment on him.
"So the LORD said to Solomon, 'Since this is your attitude and you have not kept my covenant and my decrees, which I commanded you, I will most certainly tear the kingdom away from you and give it to one of your subordinates'" (1 Kings 11:11, NIV).
Like my brother, Solomon didn't immediately fall into his situation. He made a series of decisions that led him away from God. He amassed seven hundred wives and three hundred concubines. With every marriage and every relationship, his heart must have slowly turned away from his faith (1 Kings 11).
When I was a young teen, I too fell. I found myself drinking and taking drugs, but it didn't just happen. Like Solomon and my brother, a string of events caused my fall. I had to trace the events backward to figure out where the problem had started.
Friends introduced me to the drinking and drugs. I chose to listen to them. Why? I believed no one wanted me and when someone showed me affection, I latched on and eagerly grasped their lifestyle.
When I stripped away the excuses, one thing remained: my heart. As a small child, I knew about God, how he loved me and wanted me to follow him, but I had turned my back on him and followed my own heart. I slipped away from my faith, bit by bit.
After I saw the effects the drugs and alcohol were having on my friends, I knew I couldn't continue. I asked God to forgive me and followed Him.
Many times, bright and shiny things catch our attention. People, drinking, a post on social media, or something else may lead us astray and we realize we are on thin ice or worse, we've fallen in and no one is nearby.
When we find ourselves in such a situation, we have to trace our path backward and find out where the problem originated. Is it our heart? Are we serving God with our whole heart or a divided heart?
"Make sure there is no man or woman, clan or tribe among you today whose heart turns away from the LORD our God to go and worship the gods of the nations; make sure there is no root among you that produces such bitter poison" (Deuteronomy 29:18, NIV).
"Jesus answered, 'It is written: 'Worship the Lord your God and serve him only'" (Luke 4:8, NIV).
---
---
Debbie Wilson From USA At 4/15/2022 11:02:05 AM
Sarah, your story drew me in and provided a wise and gentle warning we can all relate to.
Reply by: Sarah Schwerin
Thanks for reading.
Annie Yorty From At 4/14/2022 4:22:11 PM
Sarah, such a powerful story with a great message. Thank you!
Reply by: Sarah Schwerin
Thanks for reading.
MICHAEL ANDERSON From At 4/14/2022 8:56:27 AM
Thoroughly enjoyed!
Reply by: Sarah Schwerin
Thanks for reading.