Rootless
Monday, February 7, 2022 by By Sarah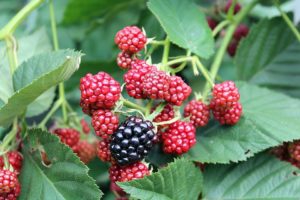 I had high hopes for the slender branch in our small garden. My father-in-law had taken the cutting from his parents' blackberry bush in Michigan. Then, he had replanted it in our tiny plot of earth in Kentucky. I anticipated sharing juicy berries with my two preschool-aged sons. Approaching the garden, I inspected what I hoped to be the beginnings of my thriving blackberry bush. No buds were visible on the curving plant. It's going to take a while, I told myself, but as I stepped closer, something wasn't right. I wiggled the plant and much to my amazement it easily came out of the ground. The branch had no roots. Upon further observation, I found that my sons had been pulling up the branch and "replanting" it every time they were in the backyard.
I have big plans for my life but when I don't have my daily quiet time in the morning, I find myself much like the stick in my garden, useless and lacking fruit. I need to plant myself in God, to burrow deep into him. Otherwise, I will be rootless.
---
---