Book Review: The Courage to Heal By: Ellen Bass and Laura Davis
Thursday, January 26, 2023 by Sarah Schwerin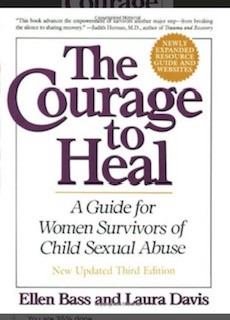 When I first held the thick book in my hands, I was in the public library. As a college student, I couldn't afford to buy a copy, but was curious to read what my counselor had recommended. I opened it and drank in the information. Other women felt the same as I did. I wasn't alone. But I place the book back on the shelf. The size of the volume and the title shrouded me in shame. No way could I take it back to my dorm without a brown paper bag.
After a few weeks, I returned to the library, checked it out, and soaked in the information. Over the next few months, I kept rechecking the book out and my shame lessened as I read the various sections and stories in the book.
The Courage to Heal gives a voice to women survivors of child sexual abuse. New readers should have a support network in place as the content and stories may trigger them. Survivors can read the well-researched handbook straight through or go directly to the section that speaks to them. A comprehensive guide to finding the courage to heal and beginning the journey, the book is separated into six sections: taking stock, the healing process, changing patterns, for supporters of survivors, courageous women (survivor stories), and resources for further reading.
While I don't adhere to some of the life choices presented, I am forever grateful for the authors of the book, which inspired me to begin my own journey to healing.
---
---